Sugar Flowers are our pride and joy over here at Bluebell Kitchen! As sugar flower specialists, we've spent hours and hours perfecting the craft of creating a whole host of different types of sugar flowers. We get quite a few questions regarding our sugar flowers; how do we make them and what are the costs and the benefits of having sugar flowers on your order from us? 
Why Choose Sugar Flowers?
As well as looking amazing, these beautiful creations can last a lifetime! There's no need to worry about the heat wilting the sugar flowers on your wedding cake; some fresh flowers don't last the day, and there's also the possibility of having toxic flowers and foliage – no one want's that on something they're about to eat!
How amazing would it be to walk into your venue and see the most amazing showpiece wedding cake full of stunning, hyper-realistic sugar flowers!?  From the traditional delicate white roses to bright, vibrant Birds of Paradise they provide a luxury finish to almost every style of wedding cake. They last forever and are a beautiful memento of one of the most important days in your life! 
The only design limit on sugar flowers is your imagination…who says they have to be botanically correct? Colours not found in nature; gold painted, sparkling roses; fantasy flowers are all possible with sugar flowers. Here at Bluebell Kitchen, we can create something truly unique when creating the bespoke wedding cake for your big day.
Time & Cost
Of course, choosing between sugar flowers and real flowers can come down to your budget and how much you are willing to spend on your cake (and extra flowers, as the case may be!). Creating stunning and intricate sugar flowers takes many hours. Not necessarily budget bursting if only a few are required, but cascades, posies and similar ideas won't simply be created in a day!  We've forgotten how many times we've been asked to quote for a wedding cake that includes a "simple" sugar rose cascade, so please have this in mind when asking us for a quote and for determining your wedding budget!
Here at Bluebell Kitchen, what we love about sugar flowers is that you start with a simple piece of flower paste (gum paste), and a few hours later you have the beginnings of a full-blown rose, peony or ivy garland! Flowers and foliage come to life right before our eyes!
Sugar flowers, and we mean the gorgeous, realistic ones, include preparing a flower centre/ stamen, rolling flower paste until it is see-through and wafer-thin (in the case of roses), frilling and thinned again, drying (which can take days), dusting, steaming…making extras to account for breakages, and finally adding these beauties to the iced cake! Sugar flowers are very, very delicate, so at Bluebell Kitchen, we take pride in the utmost care for your bespoke wedding cakes and sugar flower orders!
So, is it really worth the effort, you might ask? Absolutely, yes! When a client comes to visit our studio at Bluebell Kitchen and thinks the sugar flowers are real, needs to touch the flowers (sugar flowers seems to bring out our inner child as everyone always wants to touch them) then we know it's worth it!
Quite simply, here at Bluebell Kitchen, we love sugar flowers…the more unusual, the better!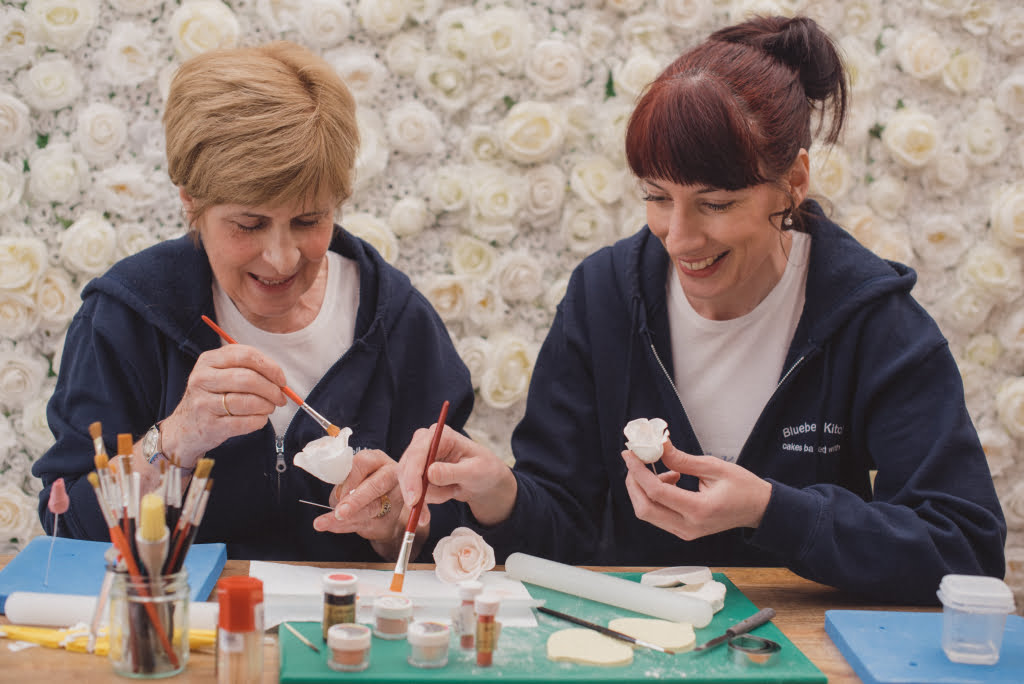 Photo Credits: Rebecca Douglas Photography, Bluebell Kitchen
Bluebell Kitchen are mother and daughter team, Erica and Charlie Bell.  We're Kent based cake designers and sugar flower specialists, creating bespoke wedding cakes and celebration cakes in Kent, London and the South East. Get in touch to see if we can help you bring your cake design dreams to life!